Teeth Whitening Olympia Fields, IL
Teeth Whitening For A Brighter Smile

Are you embarrassed by your yellow or stained teeth? Although it probably took years for your smile to become dull, it only takes one professional teeth whitening session to improve the appearance of your teeth. Dr. Vincent A. U. Oganwu, D.D.S., F.A.G.D., your Olympia Fields, IL dentist shares the advantages of professional teeth whitening.
What Are The Benefits of Professional Teeth Whitening?

Teeth whitening kits are available in practically every drug, grocery, and discount store in the country. Although these kits can help lighten your teeth, professional whitening offers several important benefits you just won't get with a do-it-yourself kit, such as:
Impressive Results : It's not unusual to feel a little disappointed after using a store-bought kit, particularly if your smile looks nothing like the photographs on the front of the package. When you choose professional teeth whitening, you can expect your teeth to be three to eight shades whiter after treatment.
Quick Results : Kits often require you to use the product several times a week for weeks at a time. Professional whitening only takes one one-hour visit to your dentist's office. If you would like your teeth to be a little whiter, you can always return for an additional session or two.
Reduced Sensitivity : Teeth whitening agents can irritate your sensitive gums and roots and cause pain for several days after you use a whitening product. Before the whitening process begins, your Gainesville dentist applies a protective gel to your gums and roots. He also uses retractors to pull your cheeks and lips away from your teeth, protecting these sensitive tissues from irritation.
Versatility : Take advantage of professional strength whitening at your dentist's office or at home, if you prefer. If you choose at-home whitening, your dentist will make an impression of your teeth. The impression will be used to create custom-made whitening trays that you'll use whenever it's convenient for you. You'll simply fill the trays with the whitening agent and place them in your mouth.

Teeth Whitening Procedures Restore Stained, Dull, Or Discolored teeth.

The darker tissue of your teeth, the dentin, can become exposed as the outer layer of enamel is worn away by the effects of aging or things like caffeine and tobacco.

Food particles are naturally attracted to a tooth's enamel by a certain protein. Products like coffee and tea, berries and soy sauce are notorious for staining teeth. Over time, teeth actually become more absorbent and vulnerable to staining from food and other substances.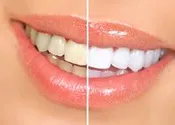 One type of stain—caused by traumatic injuries, medications and fluorosis—actually begins inside the tooth; brushing and flossing don't help. Another type of stain—one that can be more easily attacked by brushing, flossing and rinsing—is caused by external factors such as foods.
More and more people today are choosing tooth-whitening procedures to reverse the effects of aging and abuse from food and tobacco stains.
Some commercially available "whitening toothpastes" can be somewhat effective at removing stains and making teeth a few shades brighter. However, many of these products have abrasive substances that can actually wear away your tooth's enamel.
Whitening agents actually change the color of your teeth, but only are effective on certain types of stains. For example, bleaching agents have a difficult time removing brownish or grayish stains. These products also are not as effective on pitted or badly discolored teeth, or on restorations such as crowns, bridges, bonding and tooth-colored fillings (porcelain veneers or dental bonding may be more appropriate in this case).
In-Office Professional Teeth Whitening

Professional whitening performed by our office is considered to be the most effective and safest method; done properly, tooth whitening can last as long as five years. Over-the-counter whitening systems are somewhat effective as long as they are monitored and directions followed closely.
Ready for a brighter smile from Dr. Vincent's Office? Take advantage of professional teeth whitening services from South Suburban Dental Care. Call our Olympia Fields, IL office today at (708) 732-6474 to book your appointment or to learn more!